Donate to our cause and enable us to support women in crisis pregnancy.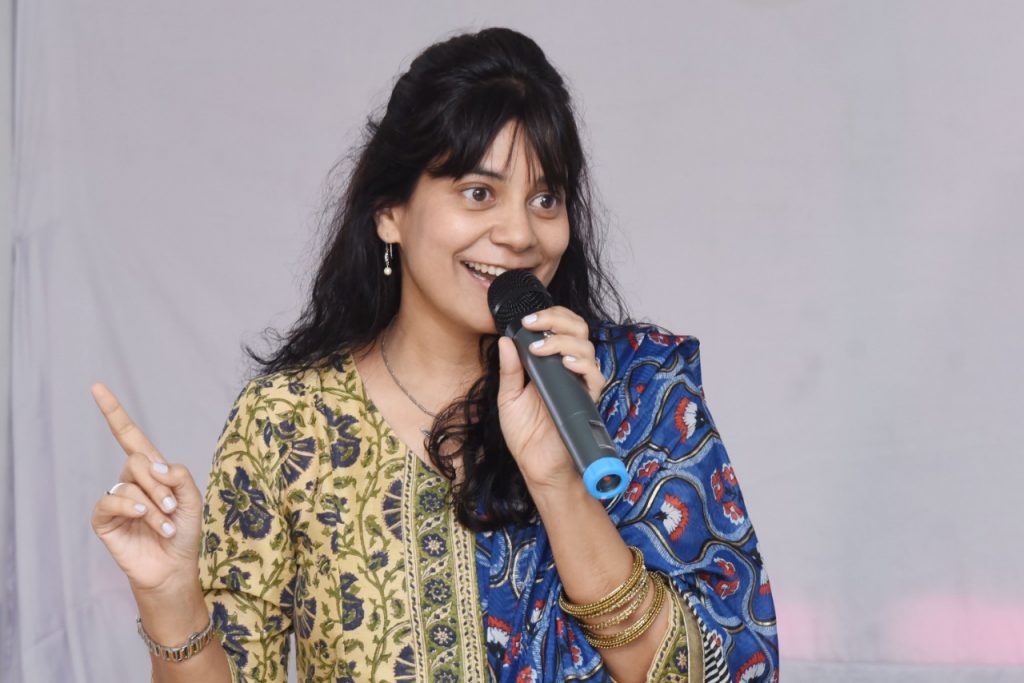 Mrs. Arlene Theknath
Founder – Trustee

The Founder, Mrs. Arlene Theknath is an eloquent and an industrious visionary! Having completed her BA from Sophia College, Mrs. Theknath owns a diploma in Client Centered Therapy from the UK and is currently pursuing a Doctorate in Psychology. Having worked as a Counselling Psychologist for over a decade, Mrs. Theknath has recently started 'SoulFuel Counselling and Therapy' company with an obvious objective of fueling souls to make happier lives. Mrs. Theknath's TSPF is no less than a miracle to those in need of aid. The TSPF team, under the able guidance of its mentor, Mrs. Theknath, have saved several precious babies in conjunction with empowering women as a whole. Having conducted highly informative, interactive and engaging workshops in schools and colleges, Mrs. Theknath has watched the unpleasant folds of life on close proximity. Her workshops are more of Joy-Shops where she possesses the unique quality to make the common look so uncommon! To name a few – 'Being Happy', 'Infatuation v/s Love', 'Journey of Life'. Believing that she can make a difference in this world, Mrs. Theknath relentlessly works towards excelling each day. A loving persona that she is, the founder of TSPF is the powerhouse of Good Vibes!
The Saved Pearl Foundation is a registered organization founded by Mrs. Arlene Theknath in April 2015. TSPF supports pregnant girls and women in crisis pregnancy, thereby saving several priceless babies. With an aim to provide requisite information and spread awareness on concerns like crisis pregnancies, female foeticide, female infanticide and ripples of such acts, TSPF aims at achieving an overall empowerment of the girl child and women in our society. Apart from counseling, arranging legal and medical aid and suitable accommodation, TSPF also spreads awareness about certain ignored women related concerns.
Of the total donations obtained, 70% of the funds are directly utilized to help every pregnant woman in need of our care.
70% towards support for women in crisis pregnancy
18% for management and operations
12% for awareness programs
In India, every year around 15.6 million babies (especially the girl child) don't open their eyes to the beautiful day.
The concerns that dissuade most women from proceeding ahead with their pregnancies are:
Low literacy rates
Need for a male child
Low self-esteem among girls and women
Lack of support from the spouse/partner
Societal pressure and its evil branches
Our intervention is primarily focused on assisting young pregnant girls & women who are abandoned by their husbands/partners. We help support by providing them with medical, legal and psychological well-being. Our goal is to support the girl/woman till the delivery of the baby. However, in case of an emergency we are there stand by to assist them.
Quality healthcare and counselling for the well-being of the mother remains our prime focus.
Since inception (April 2015), we have spread awareness by conducting our workshops reaching out to 5800+ children and young adults in schools & colleges, 2200+ women from low-income communities on topics such as Journey of Life, Being Happy, Infatuation vs Love and Sex Education, etc.
Dear Donors and Readers,
We are writing to you on behalf of the Saved Pearl Foundation, an NGO that provides support to women in crisis pregnancies. We are reaching out to request your assistance for one of our beneficiaries who is in need of an injection called CLEXANE 40 mg.
This injection is essential for the health and well-being of our beneficiary and her unborn child. It needs to be administered every day until the delivery of her baby. However, the cost of the injection is Rs. 458/-, and the total amount needed for the entire duration of the treatment is Rs. 51,296/-
We understand that these are challenging times, but we are hoping that you can extend your support to help us raise the necessary funds to ensure that our beneficiary receives the required treatment. Your generous contribution can make a significant difference in her life and that of her unborn child.
We appreciate your support and thank you for considering our appeal.
'We Rise by Lifting Others.'
TSPF supports pregnant girls and women in crisis pregnancy, thereby saving several priceless babies. Of the total donations obtained, 70% of the funds are directly utilized to help every pregnant woman in need of our care.
A-106, Kamlesh Apartment, Sher E Punjab Colony, Andheri East, Mumbai.